Eastern Florida Alliance of Media Producers
Welcome to the Eastern Florida Alliance of Media Producers (EFAMP). We are a Florida-based mutual support group that serves the Florida area roughly bounded by Daytona to the North, Orlando to the West, Melbourne to the East, and Fort Pierce to the South.
EFAMP was initiated in April 2023 to capitalize on the development of practical Artificial Intelligence (AI) solutions, computer and camera hardware/software advancements, and virtual communications to provide unique opportunities for our members.  We achieve this by sponsoring training seminars led by subject matter experts, conducting tailored field events that allow our members to practice newly acquired skills, and issuing creative challenges where participants can show off their talents and win prizes.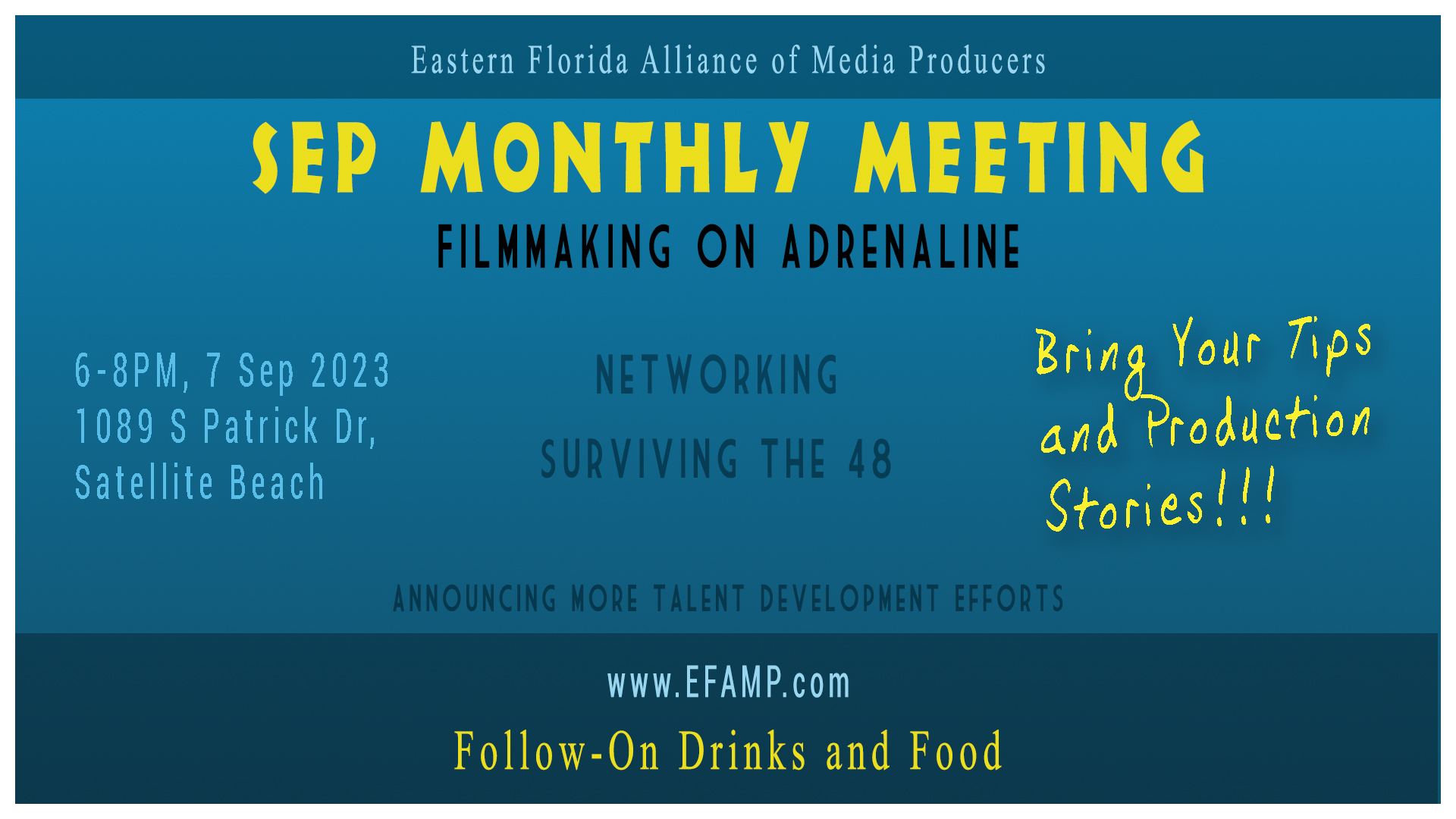 Join us at the Eastern Florida Alliance of Media Producers (EFAMP) September meeting at 6PM on 7 Sep 2023 at 1089 South Patrick Drive in Satellite Beach.
For Sep, EFAMP will be hosting a (MOSTLY) free-form meeting. The topics we'll cover are adventures in tight-limit shoots (with a heavy focus on 48-Hour Film Projects), progress on our talent development initiatives, and allowing talent to get advanced consideration for our upcoming projects "Shadows", "A Light in the Dark", and "The Space Between Us All".
In Sep, we're setting aside a lot more time for folks to network and educate us on their talents and ambitions.
Afterwards, we're migrating to get food and drinks and socialize.
Looking forward to seeing you there.
To provide unique skill development and creative opportunities for our members using correlated virtual communications, in-person meetings, and field events.
Our creative challenges are intended to get folks working together and force participants to think in new ways They're designed to push people outside of their comfort zone. Some of these have prizes. Some are just for the experience. They're open to both our membership and the general public.
We promote skills development in staged sequences, starting with a virtual session to cover basic skills, followed by a field exercise for hands-on practice, and then the actual event. Unlike our creative challenges, these events are tailored to subsects of our membership.
We support both native group and associate media projects, including for-profit efforts. EFAMP selects efforts that we believe will allow our members to showcase their skills and have fun in the process.
Do you want to be a part of a community of like-minded creatives that seek to push beyond thier current limits and have fun in the process. If that sounds like you, we hope you'll join us. Let's see what we can create together.